Home Buying Guide
Back to Knowledge
Infographic: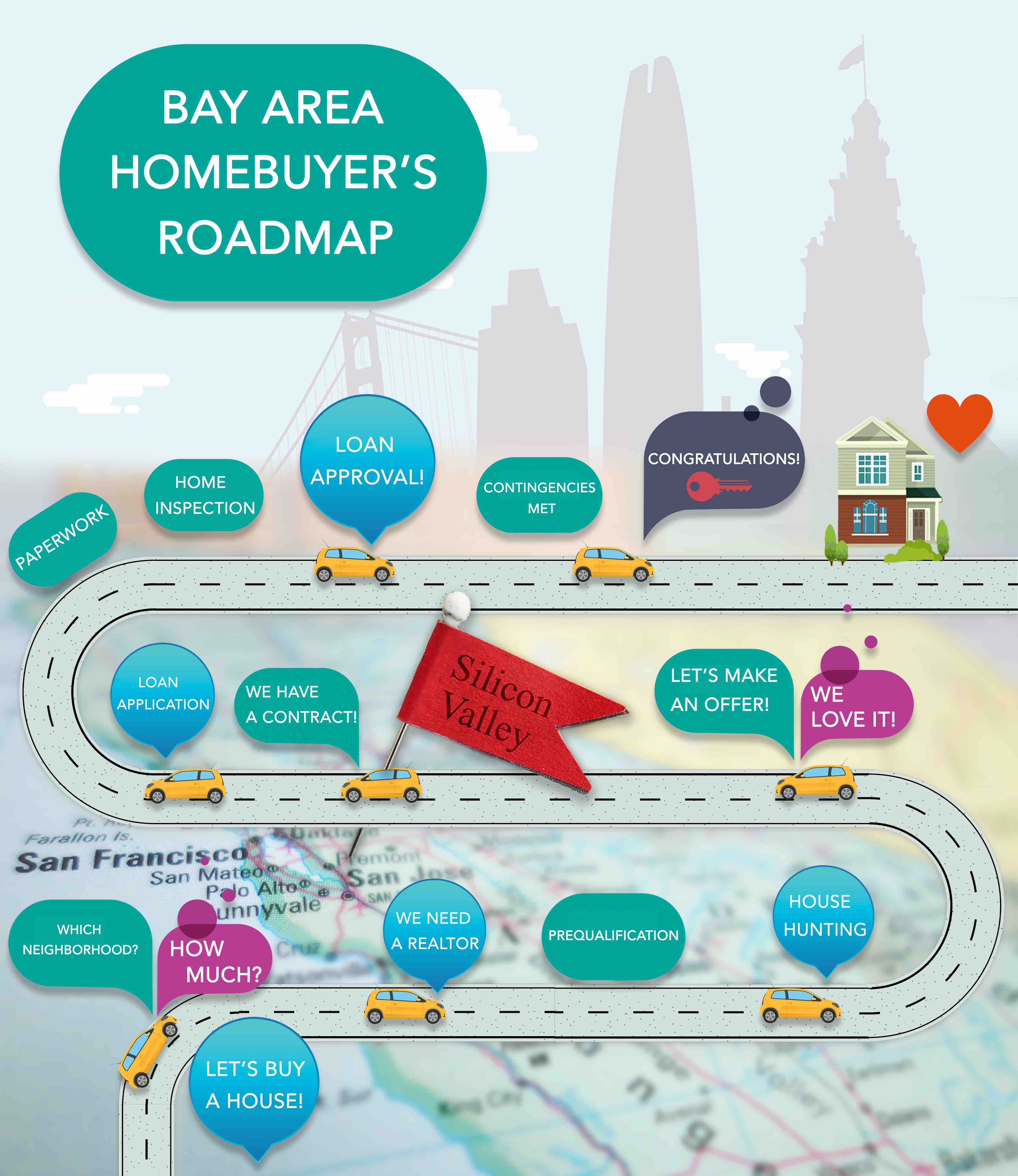 Step 1:
Affordability Analysis, Consideration of Finances
The cost of buying a home is much higher than the purchase price. The average down payment is 20 percent of the home's price, and closing costs are 2 to 4 percent of the home's purchase price. On a $200,000 home, these fees add up to $48,000 of out-of-pocket expenses. You'll also need to buy homeowner's insurance, pay homeowners association fees, pay for upkeep and have enough money left over for daily living expenses. According to Mysalary.com, your total monthly house payment (including property taxes, mortgage, homeowner's insurance, etc) shouldn't be more than 28 percent of your gross monthly income.


Step 2:
Getting Pre-Approved By A Lender
Your next step is to obtain a letter of pre-approval. A pre-approval letter proves to a seller that a lender will back you up to a certain dollar amount. To get pre-approved for a home loan, a mortgage lender will thoroughly research your financial history and review documentation about your assets, debts and income. They'll determine how much you'll be able to afford and whether you're likely to pay back the loan.


Step 3:
Finding an Affordable Home and Touring with your Agent
A real estate agent may be invaluably helpful in finding a home that fits your lifestyle and budget. They have all the current listings at their fingertips through the MLS (Multiple Listings Service) and can quickly narrow it down by number of rooms, age of the home, amenities, neighborhood and price. You can also scan newspapers and real estate booklets for a home that catches your eye. Keep in mind that a home's asking price is not necessarily the same as its selling price. If your budget allows a maximum of a $200,000 home and you find your dream home for $210,000, it may be possible to talk the seller down to your ideal price. Your real estate agent can help you accomplish this.


Step 4:
Making an Offer (Bidding), Negotiating, Passing Inspections
When you find the home of your dreams, your real estate agent will help you make an offer on the house. Your written offer contains more than how much you want to pay for the property. You must also consider home inspection contingencies that require the seller to fix the problems found in pre-buying inspections before the deal closes. You must list concessions (things you want the seller to pay for) and conveyances (things you want left behind for your use). You may be required to put down earnest money at this time.


Step 5:
Closing
If the seller accepts your offer, it becomes a contract and you can close on the house. This process culminates in a closing meeting between the buyer, seller, real estate agents for both parties and a closing agent. At this stage, make sure you shop around the mortgage marktet and and comfortable with your loan terms. Before signing final documents, you'll be allowed to walk through the house a final time to make sure it's in acceptable condition. You'll carefully review the legal documents and sign numerous papers. Once this meeting is done, you are a home owner and are free to move in to your new property!



Gotchas:
Loan Shopping
Shopping for the mortgage is and important consideration. Never agree on the first or recommended option, negociate with your loan officer to get the better rate in reasonable time. Lock your rate once timing is favorable.

New Construction
If you are considering a new construction, make sure letting the selling officer know you have an agent. If you engage without an agent, they usually won't let you use one later. Being represented by your agent may be beneficial during the negotiations of the price and upgrades, especially, during the early stage of construction.

Competing With All-Cash Buyers
Due to the prevalence of all-cash buyers in San Francisco, a buyer must consider ways to make their offers more attractive to prospective sellers—such as ensuring they can close on the home efficiently, which means providing all financial information to the bank before making an offer. Buyers should work with a lender who can process transactions in a timely fashion, so there's no concern that the deal will fall through. Many sellers would prefer to close in 10 to 14 days while banks may need closer to 18 to 21 days to close, so buyers should ensure there are no unexpected financial hurdles or surprises that could prevent a quick closing.

TICs vs. Co-ops vs. Condos
Buyers in the San Francisco market might encounter some unfamiliar options while they're out house hunting. Tenancy in Common properties, or TICs, are generally older multi-unit properties that are jointly owned by all the individual unit owners.
While the price of a TIC may be 10% or 15% less than a comparable condo, they also carry risks. Many lenders will not provide fractional loans to TIC buyers, meaning all owners are listed on the same mortgage. If one owner can't pay his or her share of the mortgage one month, the other owners are obligated to pay it. In addition, the city of San Francisco holds a lottery each year to allow a certain number of TIC owners to convert their buildings to condos and, as a result, raise the value of their properties.
Co-ops are similar to condos in that they both collect homeowner association dues for common areas and sometimes require approval on individual unit changes. However, co-ops have boards that approve buyers and financing, and buyers are given shares of stock, not outright ownership, in the co-op. This means that buyers who want the flexibility of owning their own property outright without the limitations and potential risks that come with TICs and co-ops will probably want to stick with condos or an even less complicated option, single-family homes.


Home Buyer's Toolbox:

Disclaimer:
The contents of this document are provided "AS IS". This information could contain technical inaccuracies, typographical errors and out-of-date information. This document may be updated or changed without notice at any time. Use of the information is therefore at your own risk. In no event shall Lily Garipova be liable for special, indirect, incidental or consequential damages resulting from or related to the use of this document.

Source 1
Source 2

Stay Connected:
Cell: 415-910-3958
Facebook | Linked In | Yelp