After the Nov. 8 presidential election mortgage rates jumped, the biggest three-day increase since 2009.
With the interest rates climbing up the Fremont Real Estate Market is topping. Unlike other parts of California such as Sacramento or Fresno, for instance, Bay Area Market isn't growing as much. There are few affecting factors to it:
1. Prices have reached the tipping point. The higher rates are making it uncomfortable for the buyer to make monthly payments on the house. A typical Silicon Valley engineer when buying a house in Fremont more likely to chose a 5 year ARM (adjustable mortgage) since he cannot afford the 30 years.
2. Interest rates are on the rise. With the new administration in Washington it is speculated that the interest rates will move up. While the higher interest rates are capping the affordability of buyers, some investors are considering buying rental properties now.
3. Tech is showing signs of cooling down. Few companies, such as Twitter laying off it's workers already. Fremont's influencers such Tesla and Facebook across the bridge are still fueling the local real estate market.
4. Lots and lots of building permits have been issued by the cities around Bay Area. Mostly in San Francisco. The construction of many housing units already began and will supply the market in the coming years.
5. Rising rates will also limit the ability of developers to raise prices, pinching margins. Buyers will look for smaller, cheaper homes and builders will probably look for opportunities to accommodate them. On January 1-st California relaxes rules for the secondary dwelling unit, more homeowners expected to build rental units in their backyards. Click here to learn more.
Median Home Price in Fremont for the last 6 months. Taken from Movoto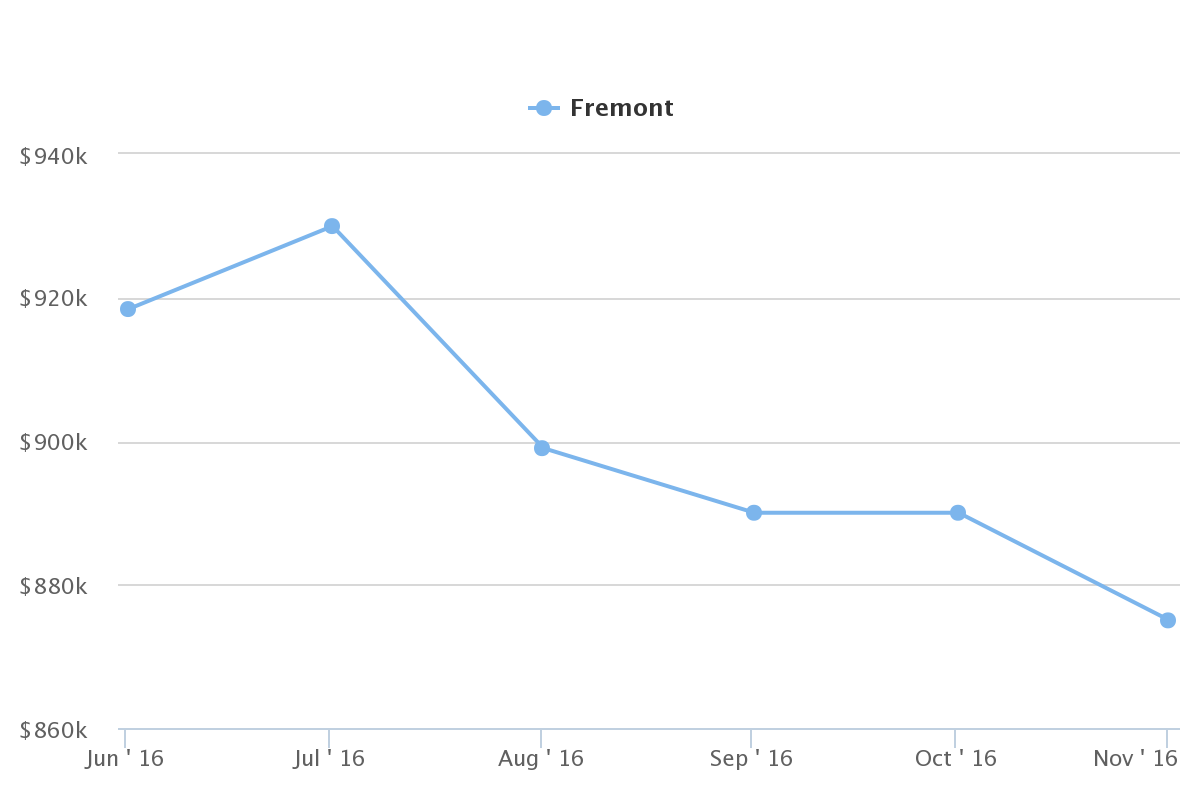 If you are interested in the upcoming new construction in the Tri-City area, don't hesitate to ask me.
Should you have further questions about market trends, or a particular property, contact me for a free consultation.
For more detailed market analysis fitting your goals and finding the best deal around as well as meeting the investment partners, schedule a personal appointment.

Stay Connected:
Cell: 718-431-5707
Facebook | Linked In | Yelp

Cal BRE#: 02010731